Updates and news The 'Team Korea NFT 2022' agency FITUS, has founded the 300FIT Sports Team
Fitus (300FIT), the agency behind the 'Team Korea NFT 2022', announced on the 7th that it had established the 300FIT Sports Team in order to expand its sports NFT business as it advances into the sports commerce business.
Thus far, the 300FIT sports team is comprised of JTBC Golf's signature announcer JANG Sae Byeol, former national cycler GONG Hyo Seok, US LPGA pro rookie JEON Ji Won, social media influencer and media pro MOON Sungmo and JO Yeon Hee.
Announcer Jang Sae Byeol is a sports announcer who first debuted on KBS N and has been conducting live lessons on JTBC 70 for the past 7 years. After finishing runner-up in the 2018 US Amateur Women's Golf Championship, Jiwon Jeon has been an active pro on the US LPGA Tour since 2020. With his perfect condition and dynamic swing, Pro Moon Sungmo has been recruited as the main model for various golf apparel brands and appeared on the 2nd season of Golf King. Jo Yeonhee, who appeared on the top professional team in Korea and is nicknamed 'the second Ahn Shinae', also won the 4th Seowon Club D Ladies Golf Championship 'WITH' which aired on SBS Golf. After his retirement, Gong Hyoseok, who is called a legend in the cycling world, has been receiving a lot of attention for his work with his cycling group. He actively shares his riding techniques through his social media group 'Riding Bung (lightning bicycle)'.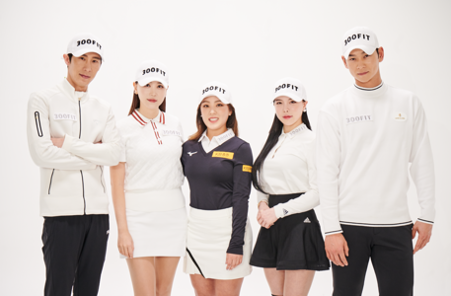 Announcer Jang Saebyeol has been recruited as the official representative of 300FIT's sports commerce sector. In addition to her 300FIT sports team activities she will oversee its commerce business by utilizing various media channels including live commerce.
In the future, the 300FIT Sports Team plans to produce sports content for its athletes. By increasing communication with sports fans by issuing NFTs for every athlete, the company intends to build a new model for athlete sponsorship. In addition, 300FIT has created various sports NFTs together with the athletes of the 300FIT sports team and plans to sell these goods through its media commerce channels. This is an opportunity to develop the NFT world from simply a collector's market to an active NFT marketplace.
Moving forward, the 300FIT sports team will recruit athletes from various fields, starting with golf and cycling. Together with exercise experts Hanna Jeong, Jayeon Kim, Baeji, and Eunji Kim, they hope to strengthen the competitiveness of its existing home workout platform 300FIT meta.
300FIT meta, an exercise content platform launched in 2018, is a newly launched home training platform based on the user analysis results of the 300FIT app. The 300FIT analysis results are then provided to you Samsung Health App and Samsung Smart TV.
The first activity of the 300FIT sports team, will be participating in the 'Team Korea NFT 2022 Support Challenge'. Hosted by Fitus, the team will be cheering for Korean athletes participating in the 2022 Beijing Winter Olympics.